Jason Zeckowski from Florida is Listener #1. I still owe him a T-shirt or something for being the first to ever write concerning the station:

Noel,

I just found your show today on live 365.com. Great music and vibes. I live in Central Florida (Orlando area) but take weekly trips to the Gulf, Atlantic, and down to the Keys. Someday I hope to get another boat and live my life on the ocean, but for right now I'm doing the 9-5 thing.

Your station reminds me of why I always feel the ocean's magnetism, no matter where I am. Thanks and please keep me updated on any changes or info.

Jason Zeckowski

*********************************************************

Fellow sailor, Grayson Dix from Florida must have heard our interview with John Parker who recently talked about cruising the Grenadines:

I've just found your site and it is fine! The interviews are most interesting. Your friends sound like the same sort of boat people I run into in the Bahamas. My wife, two dogs and one cat spent ten years cruising the islands before buying a house in Melbourne Florida in 1995.

Sea Dragon, our Island Trader 41 is currently undergoing a refit so we can get back to sea. A friend just got back from Cuba, said it's fabulous!!! If you haven't been to the Bahamas, try them out. The water is the clearest on earth, people friendly and fishing good. No problem in feeding yourself from the ocean, lobster, snapper and grouper just under the surface. The Moorings run a couple of charter fleets there, Marsh Harbour, George Town and Hatchet Bay, I think. We used them in Riataia ( Tahiti ) and thought that they did a excellent job, clean boat that worked and was provisioned as we wanted.

The net has really spoiled me though, I hope that by the time that the boat is ready, a wireless sat link will be a reality. Global Star maybe? Should you hear of anything, I would be very interested in exploring it's use on board.

Keep up the good work. The sound quality that I get is excellent.

Grayson Dix
Navigator S/V Sea Dragon

*********************************************************

Steve Hill is a Viet Nam Vet from Lee's Summit, a suburb of Kansas City Missouri:

Hello, Noel

Just wanted to take a moment to let you know I listened to your broadcast today (01/26/2001).... I really enjoyed your program(s). They have a real peace to them.

Although I'm not a boat person, I could almost feel the gentle roll of the waves while listening. As well, I'm not into dogs, but after hearing your description of your dog..."ya just can't help but open a space in your heart for the red haired fish hearder".

I'll look forward to passing along your station to my listeners. I'm certain they will find your program a pleasure to listen to, too!

And from another letter:

My life's a slice of the web, The New American Forces Vietnam Network is a web broadcast targeted towards Vietnam Veterans. (I also broadcast on 97.7 FM) For most of us Nam' Vet's, AFVN was the radio station we listened to while we did our tour(s) of duty in Vietnam. It didn't matter if you were on the ground or in the air, ya' listened to AFVN. I know this might sound sort of strange, but it was very common for many of us to be in actual combat and continue to listen to AFVN on a pocket radio or over the NAV radio in our helicopter's. I suppose when you are close to death you try to hold on to a little piece of life.

Anyway, I do a home spun sort a' broadcast of then and now. I use some of the original promos, jingles and spots that AFVN ran along with a bunch of gabbing. What I do isn't for everyone, but it works for some of us. I don't care what any one says, the Vietnam War was one big ass tragedy that has and does effect people and has had an affect on everyday living....We want the entire world to know that, the Vietnam War was the kind of war this country never needs to experience again. Ah, well...enough about the war.

I just wanted to tell you I really enjoyed listening to your program and have listened to more since I first e-mailed you. It's good and I like it. There are no hooks or gimmicks here. I just wanted to let you know I have enjoyed your broadcasts.

Also, your question about am I now in Vietnam? I spent a year in Vietnam flying the friendly skies as a Door Gunner in a Huey Helicopter. I got shot down twice and wounded three times. So, I guess it's safe to say although I'm not presently in Vietnam, I've spent the last thirty years trying to get out of Vietnam......?

I suppose it's like this. Dogs view their world from two feet high never missing a bush or flower (He's quoting my song "Two Feet Tall" ND.) A Veteran views their world from a kaleidoscope of death never ever being able to completely live again. War takes away part of a human's - being...It's not easy living with a part of your very being having been ripped out of you. And it's not just the American Solider that gets taken apart. It is every Solder in every war. The Nations are filled with shells of humans, cracked open from wars. OK, Nuff said. Some times I gets on me soap box and
start's to preach....(Amen! ND)

Thanks for the peaceful programs.

Best wishes,
Steve Hill
The New American Forces Vietnam Network
http://www.afvn.net

*********************************************************

Dr. Bob, a fellow older Surfer from California:

Dude:

Your mix ROCKS, Definitely sic! I thought I had the lifestyle, You've got me beat. I'm 50, Live on the beach in Surfside, (near Monterey, California) former bass player back in the day, now world traveler. Love what you're doing, keep up the good work. Live365 is a great use of the internet and streaming media don't you think?

Its Sun PM, decent sunset, looking forward to a longboard session tomorrow amidst the runoff polution. I'm sure the powerplant has nothing to do with it. We humans just seem to be crapping in our own nest. Please keep the tunes coming, peace and plenty.

Dr. Bob

*********************************************************

Bob Ketchum runs a recording studio in the Ozark Mountains in Arkansas. I gave him what advice I could while he put together his own Live365.com station:

Noel,

Been enjoying more of your show.
The interview with jimmy B is a classic. What is his URL?
(http://www.jimib.com)

I've really enjoyed your website. It's very nicely done.

Bob Ketchum
Cedar Crest Studio
email: cedarcrest@oznet.com
URL: http://www.oznet.com/cedarcrest

Audio-Video-Animation-Multimedia Specialists
HYPE Records & Dime-A-Dozen Music (BMI)
Columnist for NewTekniques Magazine
================================================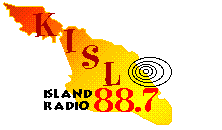 Catalina Island's "Island Radio" - KISL 88.7
Broadcast & RealPlayer Stream.
Listen to Catalina Island Weather brought to you by Descanso Beach Ocean Sports. Tune in to Catalina's local weather report every weekday morning at 9:30 am PST. No fluff here - this is the real deal with tides, surf, forecast, and wildlife sightings. They also have a very eclectic music playlist.