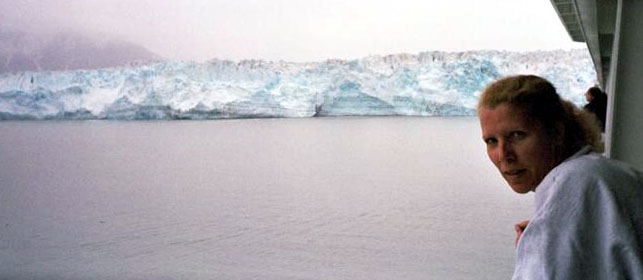 Diane Diotte at Hubbard Glacier,Alaska. 60 degrees North.
September 14 - Seattle Departure: We flew in from Los Angeles to Seattle. Had a beautiful sunny day (instead of the usual liquid sunshine). The Amsterdam left port at 5pm and exited out the Straits of Juan De Fuca and spent the night and all day Sunday going north along the Pacific Side of Vancouver Island at about 24 knots in 5-7' seas, headed for the first port of Juneau, Alaska.
September 15-16 - Juneau: Spent most of the 15th travelling North, offshore. By the morning of the 16th we were on the Inside Passage and there was enough light and we were close enough to shore to videotape the shore-side beauty as we were pulling up to Juneau. I brought my Hi-8 Camera which quickly seized up in the 86 per cent humidity. The video portion of the camera worked even though the tape mechanizim was locked up. So, I re-wired the in-room VHS VCR for recording and strung a 25' RCA cable from the camera out to our Verandah and recorded scenery as we cruised by. I also could record from the ship's forward-looking camera and also record the navigation data and maps as we went along, so I got good video footage all along the way.
Juneau was impressive in that it was still small enough to be visited on foot. We elected not to buy any (expensive) shore-side tours. We were rolling Gertrude around in her wheelchair to make sure she didn't miss out on anything. She had to trust us not to lose her on the ramp boarding and unboarding. I got a good workout each day which helped me burn off the pounds collected from each day's 3 full meals. Me hungry? I don't think so.
Nevertheless, we managed to get up to the top of Mt. Roberts in the sky tram and have some lunch and try to stay out of the rain while we cruised the shops loaded with typical tourist junk and some really nice Tlingit (local native) artwork, including totems, beautifully intricate, bone carvings of various native scenes. If I were a rich man, I would clean out the stores of some of these finer pieces and open a store in LA. There are some knock-offs and pieces done from poorer wood or stone materials. But, there is some real quality art available.
We watched sea planes take off next to the ship and videotaped the forested shoreline on the opposite shore on George Island. They do have one small-boat marina with a large number of Commercial fishing vessels and a number of local sailboats in the 25 foot range.
There are great homes with land to buy from under $100k and up to $300K and jobs available from $8-15 an hour to substantial jobs in Engineering and roadbuilding to the tune of $35-45K a year. Alaskans are waiting for their $1,500. dividend check from the state. Yes, they get something back from their taxes, mostly from forest, oil and mining concessions (I would imagine).
September 17: Hubbard Glacier. We cruised all night going north out in open sea and reached Hubbard Glacier around noon. I locked the camera down and got lots of footage of the glacier and floating ice. The weather wasn't too bad, down to 41 degrees with off and on rain. Got some shots of some small calving of the glacier. This is the farthest north and west that I've ever been at 60 degrees north and more than 130 degrees west. I wouldn't ever visit here in my boat, so I'm glad we got to see this. There weren't any whales or large flocks of birds sighted on this trip except for the night we headed up to the glacier. I went out on the veranda at about 3 in the morning and there were hundreds of small birds flying north, slip-streaming along with the ship at about 24 knots! The wind was about 20 knots from the southeast, blowing from the stern. These little guys were staying right up with the ship unless they got up above the top deck and then the crosswind would blow them upwards and back in a big arc. They looked like fireflys with the ship's lights reflecting off their bodies. It was very cold, very dark and very magical. I wanted to see what kind of bird they were and got my wish. Twice, I had one of these small brown finches fly onto the verandah and into the room and had to chase them out quickly so they wouldn't lose their group. I watched this for about an hour until I couldn't stand the cold. Woke up around 5am and there was one little bird still on the Verandah. All the other birds were gone. So, I encouraged him to take off, hoping he'd make it to wherever he was going and that he ultimately found his travelling companions.
More to Come.......