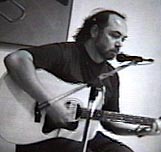 A Song by Noel Diotte
I wrote the song, Anchor for my wife, Diane when we were spending every other winter weekend at anchor up at Paradise Cove, above Malibu. We had some pretty hairy nights swinging in all directions of the compass in some pretty heavy winds. While I stayed up all night listening to the chain drag around on the bottom, I got up to check on the pelican who had found shelter in our cockpit and a small sea lion pup asleep in our dinghy, Diane was fast asleep, "Trusting me and all my gear".

Anchor by Noel Diotte
Words and Music by Noel Diotte, c2002.
When the wind is blowing endlessly
on a cold and moonless night
and the boat is hanging at her hook
straining with all her might
Below you're sleeping peacefully
trusting me and all her gear
It's amazing that you hold so fast
It's wonderful that you're here

What's the promise that we can't see
of travelling this world together
what is the mystery that keeps you close to me
We've barely left our doorstep
haven't really set a course to steer
It's amazing that you have such faith
It's wonderful that you're here

And we may never get to go
there's just one thing you need to know
I'll always love you and be by your side
anchored forever by your side

And then time will find us
where we're not today
when we've met our obligations
and there's no more dues to be paid
then the harder part of living
the struggles and the fears
will make me love your holding fast
and say, It's wonderful that you're here.