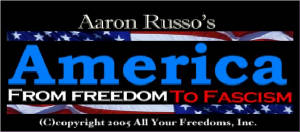 Aaron Russo's Director's Cut of his film.
NEW! Another 36 minute interview with Aaron Russo. Consious Media Network.

Ghost - by Bruce Owens

I walked slowly into the living room the way I would imagine that a ghost walks. This same living room my grandfather walked into in the winter of 1928. The windows were sheets of ice that winter, and in the streets in town, hoof prints froze in place like a black, and white photograph. His face is up on the mantle in an oval frame, with those black eyes staring out into this era like the coal he use to shovel down in the basement.

He was a man's man, a chip out of granite, squared chin, and a charm with the ladies, until my grandmother's charm tamed him into a malleable horse that snorted over the newspaper at the kitchen table.

Grandfather loved to fish, and as a child of nine, I loved the way he untangled my fishing line, a bundle of nylon knots, smoking a pensive pipe, the flat lake lapping at the edge of nowhere in time, the clear nylon between his fingers,and I thought I would look up, and see him against a gray sky forever, tenderly untying my snag.

When she died, he refused to go fishing. He refused to read the newspaper, refused to eat or even drink coffee. I would drive over, and sit with him for hours, saying nothing. Everything needed to be said was said by the way he held her favorite scarf in his lap, the one she wore when they walked the shores by the lake.

I wanted to reach over an untie my grandfathers grief the way he untied my bundle of knots. I wanted the clear nylon to unravel mysteriously in my hands the same way it unraveled in his, but I could not take the pain out of his eyes.

Now that he is gone, there is no one to take the pain out of my eyes nor unravel the mysteries shipwrecks all around me in this living room in winter with all his things in place exactly the way he left them.

Bruce Owens, c2004.
IN THE COVE with Noel Diotte
Sundays 9am-11am (Sometimes) PDT
USTREAM.TV LIVE FEED viewed here.
Link the embedded player on Democracy Now!
Listen to Democracy Now! on KPFK FM in Santa Barbara,
Los Angeles to San Diego or on-line on kpfk.org - 6am and 9am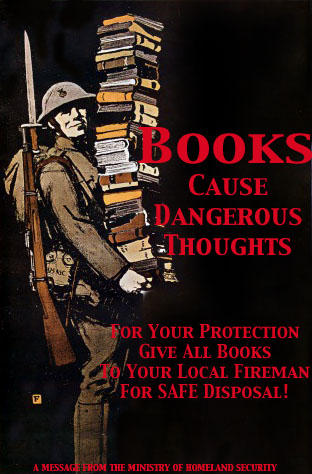 http://givemeliberty.org/revolution
Recorded on aboard Shearwater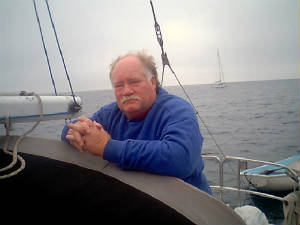 Santa Barbara Island - (Click Audio)
Give Me the Poem...Remake the World
Link for other of Bruce Owen's work:
The CALIFORNIAN (background). The California state tallship. I still have my "passport" for two passages in Santa Barbara, It's a 105' Federal Revenue Cutter of the replica. Used by the IRS during the Gold Rush era in San Francisco Bay. Photo n.diotte,c2009.