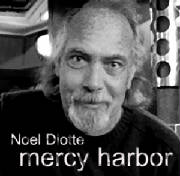 | | |
| --- | --- |
| | MERCY HARBOR by Noel Diotte,c2009. Ten (10) DVD videos full screen avi quality. Now, you can hear and view the best quality of my music. $15.00 Shipping/I pay California tax included...sheesh! |
| | |
| --- | --- |
| | Customized DVDs available for a Trio (3) of DVD songs of your choice for $6.00 shipping/tax included. |
NIGHT SAIL by Noel Diotte
1. On The Way to Avalon (Folk/Rock) Song: Mercy Harbor. The actual sailing trip of my new boat during a storm in February from San Diego and to Avalon, Catalina Island, welcomed by dolphins to my new home.
2. Better Angels (Folk/Rock) Wrote this song recently, like two weeks ago. It's just me singing during a storm on the boat when recording tracks. About temptation, evil and hope.
3. In Hiding (Blues Rock) Just wrote this week. Will be making a complete video for this soon. Right now, I'm just using a picture of me and video lyrics and a picture of Anne Frank. A song about totalitarianism.
4. From Across the Bay (Folk/Rock) Full video, performing during recording tracks. About a woman that wanted me to be a "best friend" when I wanted more.
5. Terika (Acoustic Folk) Live recording. About the Rockerfeller drug laws that keeps her in prison and with her kids with no mother and most like will follow into the prison system.
6. Monkey Jungle (Country/folk) About our trip down to Florida and Key West.
7. Silent Touch (Folk) A live recording with a slide show scrapbook of my women friends.
8. Two Feet Tall (Folk) Live performance. For my best friend, Holli a golden retriever.
9. Love Fades a Little (Blues/Rock) Dolphin's cruising under my feet on the way sailing.
10. Sunday Morning/Anchor (Folk) Morning shots on the boat in Redondo Beach.
View the videos available on YouTube - CoverunnerRadio channel.
Anchor by Noel Diotte
Words and Music by Noel Diotte, c2002.
When the wind is blowing endlessly
on a cold and moonless night
and the boat is hanging at her hook
straining with all her might
Below you're sleeping peacefully
trusting me and all her gear
It's amazing that you hold so fast
It's wonderful that you're here

What's the promise that we can't see
of travelling this world together
what is the mystery that keeps you close to me
We've barely left our doorstep
haven't really set a course to steer
It's amazing that you have such faith
It's wonderful that you're here

And we may never get to go
there's just one thing you need to know
I'll always love you and be by your side
anchored forever by your side

And then time will find us
where we're not today
when we've met our obligations
and there's no more dues to be paid
then the harder part of living
the struggles and the fears
will make me love your holding fast
and say, It's wonderful that you're here.